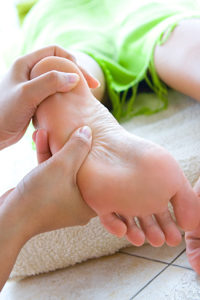 From the WDRB news article:
The United States Centers for Disease Control and Prevention reports alarming statistics about Americans golden years: falls are the leading cause of fatal and non-fatal injuries among older people. In 2010, for example, 2.3 million fall injuries sent older folks to emergency rooms, and a whopping 662,000 of those patients required hospitalization. The monetary impact is almost as frightening; falls in 2010 cost $30 billion in direct medical costs, the CDC says. The result of this trend has been an increased medical focus on fall prevention, and the American Board of Multiple Specialties in Podiatry (ABMSP) notes that podiatrists have recently shouldered an important responsibility in helping patients avoid fall-related injuries.

"Falling is a risk for everyone, but the risk goes up as we age, and the result is that falls can be"and in fact usually are very serious. Falls are one of the most common reasons why older people lose their independence, said Earl R. Horowitz, D.P.M., President and Diplomate of the ABMSP. "The work that ABMSP podiatrists are doing in the field of fall prevention is quite remarkable," he continued. "These podiatrists are at the leading edge of exciting treatments that will have real impact in improving quality of life and independence by preventing falls in the elderly."

"Fall prevention has long been overlooked," said Kenneth B. Rehm, D.P.M., Diplomate of the ABMSP. But we're seeing a rapid change. It's time that the medical community mobilize resources in this area, and I'm very proud of the work that ABMSP has taken on to advance fall prevention treatments and techniques.
Read more at the link:
http://www.wdrb.com/story/33100496/preventing-falls-top-health-priority