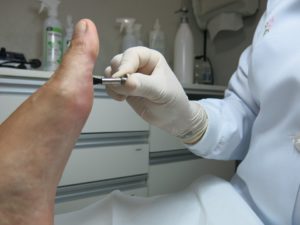 From the Diabetic Foot Online news article:
Allowing podiatrists to give diabetic patients regular foot health screenings — which are usually done by primary care doctors — could save limbs, lives and money, according to a new policy brief from the UCLA Center for Health Policy Research.

As many as 1 in 4 diabetic Californians develop damaging toe, foot and leg ulcers which could lead to amputation and elevated risk of death, according to the study. The cost of treatment statewide reached $565 million in 2014.

Using admissions data from the California Office of Statewide Health Planning and Development, authors of the study found that podiatry services provided to diabetic patients could have saved between $29 million and $97 million in 2014, even given the limited number of diabetics who received foot screenings — between 11 percent and 30 percent of patients, depending on age.
Read more at the link:
https://diabeticfootonline.com/2017/07/03/podiatric-screening-could-save-millions-of-dollars-and-soles-ucla-westernu-study/