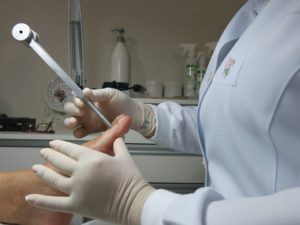 From the Columbus Telegram news article:
When you have a foot problem, a podiatrist works with you to provide treatment to get you back on your feet. A podiatrist is a doctor of podiatric medicine (DPM), specializing in the care and treatment of the feet and ankles.

A doctor of podiatric medicine completes four years of undergraduate education, four years of graduate education at an accredited podiatric medical college, plus two or three years of residency training.

Podiatrists can also become certified Fellows of the American College of Foot and Ankle Surgeons (FACFAS), joining an elite group of physicians.

The ACFAS reserves Fellow membership status for foot and ankle surgeons who earn board certification from the American Board of Podiatric Surgery (ABPS).
Read more at the link:
http://columbustelegram.com/news/local/borer-podiatrist-gets-you-back-on-your-feet/article_17fe07b2-3c68-5cd5-a624-16d6fbd3ea2e.html