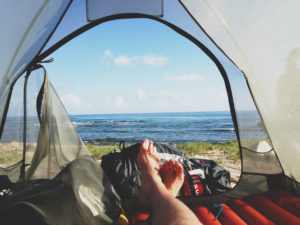 From the National Geographic news article:
Use these tried-and-true tips from a professional adventure athlete to keep your feet healthy.

A few miles before our first camp, Gerry mentioned to me that he might have some blisters coming on. We should have known to address them immediately, especially since we'd identified foot health as being vital to this project, but we decided instead to deal with them later. Indeed, that's exactly what happened.

When I saw Gerry's feet in camp, I instantly regretted our decision and felt I'd let him down. He was an experienced endurance athlete but was relying on my backpacking know-how to complete an ambitious seven-day thru-hike of the 224-mile John Muir Trail. With Gerry now having nickel-size blisters on the ball of each foot that I rightly feared would become the size of quarters and eventually half-dollars, with pain to match, our goal suddenly seemed less viable.
Read more at the link:
http://www.nationalgeographic.com.au/travel/how-to-take-care-of-your-feet.aspx