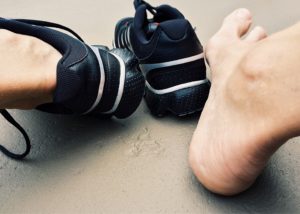 From the Foot Wear news article:
Believe it or not, spring is just around the corner and time to enjoy the great outdoors. So don't let foot pain prevent you from taking a walk in the park or a long-distance run.
For those suffering with common heel pain, the issue may be plantar fasciitis, a foot condition many athletes such as Clippers' Guard Milos Teodosic experience.
The plantar fascia is a thin band of tissue that connects your toes to the heel of the foot. The windlass mechanism, a structure of the foot, comes into play when running or walking during push-off and provides strength and support to the arch.
Read more at the link:
http://footwearnews.com/2018/focus/health/how-to-alleviate-plantar-fasciitis-477773/