September 13 – 15, 2018
Stepping Forward – Leading the Way Women's Conference
Westin Westminster
Denver, Colorado
September 20 – 23, 2018
Reconstructive Surgery of the Foot & Ankle: Update 2018
San Diego, California
September 28 – 29, 2018
BCPMA Annual Scientific Seminar
River Rock Casino Resort, Richmond, BC
October 18 – 21, 2018
Ontario Podiatric Medical Association
Canadian Podiatry Conferences
Toronto, ON
November 1 – 4, 2018
Hallux Valgus and Related Forefoot Surgery
Fort Myers, Florida
November 8 – 11, 2018
Wounds Canada Fall Conference
London Convention Centre
London, ON
November 9 – 11, 2018
Association des Podiatres du Quebec
Annual Congress
Victoriaville, Quebec
November 22 – 24, 2018
The Society of Chiropodists and Podiatrists
2018 College of Podiatry Annual Conference
Bournemouth International Centre
Bournemouth Dorset UK
November 30 – December 2, 2018
Windy City Podiatry Conference
Chicago, Illinois
April 12 – 13, 2019
Wounds Canada 2019 Spring Conference
Halifax Convention Centre
Halifax, NS
October 3 – 6, 2019
Wounds Canada 2019 Fall Conference
Fallsview Casino Resort and Hilton Fallsview Hotel & Suites
Niagara Falls, ON
November 14 – 16, 2019
FIP World Congress of Podiatry
The Hyatt Regency Hotel
Miami, FL – USA

---
Other Important Dates
---
July 12 – 15, 2018
The National APMA Annual Scientific Meeting
Washington, D.C.
June 21 – 24, 2018
Footprints in the Sand
Hilton Head, South Carolina
May 2018: World Foot Health Awareness Month
With the World Foot Health Awareness Month, the FP-IFP wants to increase the awareness of the importance of foot health among the general public and other health professionals.
November 2018: World Diabetes Awareness Month
November 14: World Diabetes Day
World Diabetes Day is the primary global awareness campaign focusing on diabetes mellitus and is held on November 14 each year. Led by the International Diabetes Federation (IDF), each World Diabetes Day focuses on a theme related to diabetes, a largely preventable and treatable non-communicable disease that is rapidly increasing in numbers worldwide. The theme for 2018 has yet to be announced.
The day itself marks the birthday of Frederick Banting who, along with Charles Best and John James Rickard Macleod, first conceived the idea which led to the discovery of insulin in 1922. This will be of special interest to Canadians, as the team was based here.
April 12 – 13, 2019
Wounds Canada Spring Conference
Halifax Convention Centre
Halifax, NS
October 3 – 6, 2019
Wounds Canada Fall Conference
Fallsview Casino Resort & Hilton Fallsview Hotel & Suites
Niagara Falls, ON
---
Past Events
---
May 17 – 20, 2018
Reconstructive Surgery of The Foot & Ankle: Update 2018
Atlanta, Georgia
May 18 – 20, 2018
2018 FIP-IFP Annual General Meeting
Hong Kong
April 19 – 21, 2018
Sheraton Centre Hotel, Toronto, ON
April 28, 2018
Alberta Podiatry Education and Information Day
Sheraton Cavalier Hotel, Calgary, AB
April 26 – 29, 2018
Surgical Pearls by the Sea
Newport, Rhode Island
April 5 – 7, 2018
Diabetic Limb Salvage Conference, a multi-disciplinary event
Washington, DC
April 7 – 8, 2018
Pedorthic Footcare Association Canada Annual Conference
Toronto, ON
April 12 – 14, 2018
Toronto, Canada
April 12 – 15, 2018
Valley of the Sun Podiatry Conference
Tempe, Arizona
March 16 – 29, 2018
APMA House of Delegates Meeting
Washington, DC
March 8 – 10, 2018
Directorate of Podiatric Surgery Conference
Solihull, UK
February 22 – 25, 2018
French Quarter Conference
New Orleans, Louisiana
February 21 – 24, 2018
The 21st Annual Georgia Summit, offering 32 CECH.
Atlanta, GA

January 18 – 20, 2018
The Mountain Foot & Ankle Conference, offering 15 CECH
Sun Valley Inn, Sun Valley, ID
January 26, 2018
15th VDP-Qualitätskonferens
Flughafenstraße, Messe Stuttgart, Germany
January 27 – 29, 2017
Foot and Ankle Business Innovations
Chicago, IL, United States
January 27 – 29, 2017
New York State Podiatric Medical Association Clinical Conference and Exhibition
New York City, NY, United States
February 10 & 11, 2017
Foot and Ankle Arthroscopy: St. Louis Skills Course
St. Louis, MO, United States
February 27 – March 2, 2017
American College of Foot and Ankle Surgeons Annual Scientific Conference
Las Vegas, NV, United States
April 5, 2017 – April 9, 2017
Symposium on Advanced Wound Care Spring (SAWC Spring)/Wound Healing Society
San Diego, CA, United States
April 8 – 9, 2017
Pedorthic Footcare Association (Canadian Chapter) Annual Conference
Toronto, ON
April 21 – 22, 2017
Pedorthic Association of Canada Annual Symposium
London, ON
April 27 – 30, 2017
Midwest Podiatry Conference
Chicago, IL, United States
May 5 – 6, 2017
Techniques in Foot and Ankle Reconstructive Surgery: St. Louis Skills Course
St. Louis, MO, United States
May 5 – 7, 2017
European Wound Management Conference (EWMA)
RAI, Amsterdam, The Netherlands
May 6, 2017
FIP-IFP 2017 Annual General Meeting
Tubingen, Germany
August 8 – 11, 2017
Pacific Coast Conference
Portland, Oregon
September 23, 2017
Pedorthic Care for the Paediatric Patient
Toronto, ON
October 19 – 22, 2017
Canadian Podiatry Conferences
Toronto, ON
November 15 – 17, 2017
2017 BCPMA / Region 7 Seminar
Richmond, BC
November 16 – 19, 2017
Wounds Canada Fall Conference
Mississauga, ON
December 1 – 3, 2017
Windy City Podiatry Conference
Marriott Schaumburg
Chicago, IL
December 4 – 8, 2017
International Diabetes Federation Congress 2017
Abu Dhabi, UAE
May 26 – 28, 2016
FIP World Congress of Podiatry
Montreal, Quebec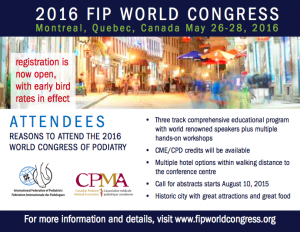 July 14 – 17, 2016
APMA Annual Scientific Conference
Philadelphia, Pennsylvania
December 2 – 4, 2016
Windy City Podiatry Conference
Chicago, IL, United States
December 2 – 3, 2016
Global Foot & Ankle Symposium
New York City, NY, United States