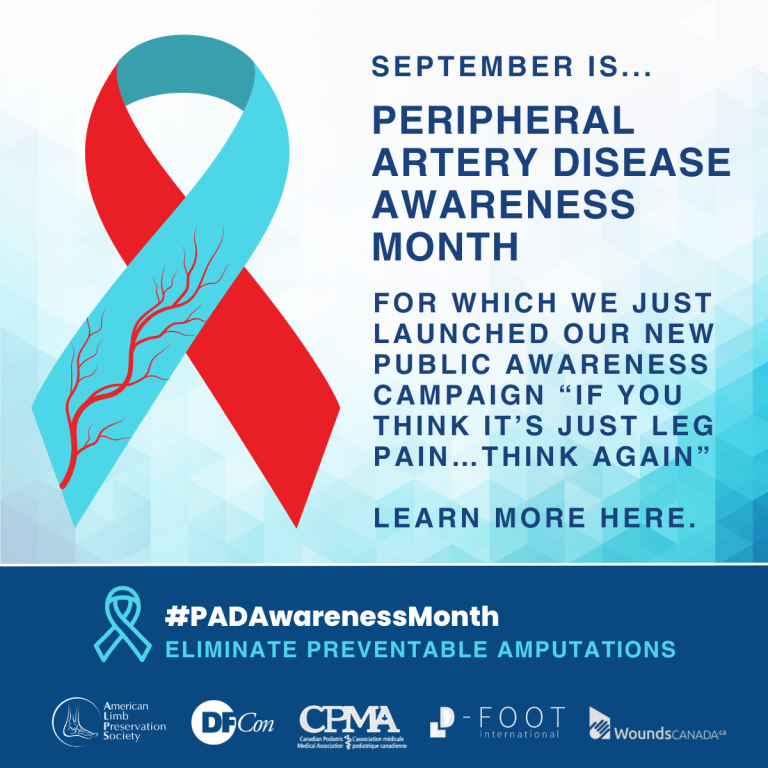 September is Peripheral Arterial Disease (PAD) Awareness Month
"If You Think It's Just Leg Pain…Think Again"
For PAD awareness month, the Canadian Podiatric Medical Association has joined forces with the American Limb Preservation Society, D-Foot International and Wounds Canada to create a Limb Preservation Alliance to address the growing concern about this disease which affects millions worldwide. PAD encompasses all non-coronary arterial diseases and often leads to reduced or blocked blood flow to limbs.
PAD increases the risk for individuals over 70 or those over 50 with cardiovascular risk factors like high blood pressure, diabetes, high cholesterol, or smoking. People with diabetes are notably two to four times more likely to develop PAD.
Symptoms include:
Cramps in leg muscles during activities
Pain in legs or feet disturbing sleep
Slow or poor healing of wounds on toes, feet, or legs
Colour changes or lower temperature in one leg
Poor nail growth and decreased hair growth on toes and leg
What puts me at risk?
Aging
Smoking
Diabetes
High Cholesterol
History of Vascular Disease,
Heart Attack or Stroke
High Blood Pressure
African or Hispanic Descent
The "If You Think It's Just Leg Pain…Think Again" PAD awareness campaign will provide:
Information for clinicians to enhance patient collaboration.
Awareness programs targeting Canadians with diabetes and the professional healthcare community.
Key Messages for Public Awareness:
Stay in Step with PAD: Discuss symptoms with your physician
Sock Signals: Stay informed about PAD symptoms
Beyond the Cramps: Decode the signs of PAD
Feet First: Take vigilant steps this PAD Awareness Month
Every Leg Tells a Story: Consult with your healthcare expert for unusual PAD symptoms
Calls to Action
Public Reporting of Amputation: Report PAD-related amputations and support awareness
Healthcare Professional Awareness/Diagnostic Opportunities: Stay informed and spot PAD before it's too late
Research Advocacy: Rally for more PAD research funding
Patient Empowerment: Arm yourself with knowledge and navigate your health journey confidently
What can you do for PAD awareness month?
Join the Conversation To Learn More About PAD by getting involved on social media! Follow Wounds Canada's awareness campaigns on Twitter, Instagram, Facebook and LinkedIn. Use the hashtags  #LimbPreservationAlliance #ActAgainstAmputation #PADAwareness #PeripheralArterialDisease
Talking about prevention of PAD—risk factors and available support—is the best way to increase awareness in your community as well as improve the lives of people at risk of PAD and their families. If you or your loved one is living with PAD, use your voice to help raise awareness.
Check out our Best Practice Recommendations on PAD as well as additional information.