---

DESIGNED TO GET PEOPLE COMFORTABLY ON THEIR FEET AND ON THE MOVE. Saucony about making the most comfortable shoes for every foot type and gait cycle, in part because we know that selecting the right shoe is an important step towards correcting foot problems and preventing walking or running-related injuries. We offer designs aimed at providing stability and cushioning, for people with high to low arches, as well as narrow or wide feet. The following styles have been awarded the Seal of Acceptance from the Canadian Podiatric Medical Association: Echelon 6, Echelon 7, Echelon LE2, Integrity ST2, Redeemer ISO2, Omni ISO, Omni ISO2
www.saucony.ca
---
---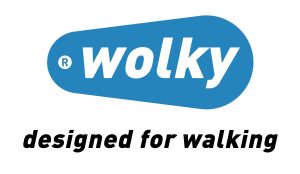 Wolky proudly presents its best-selling sandal: Jewel (Style #3204). The Wolky Jewel is a staple in so many Spring & Summer wardrobes. This beautiful sandal is offered in an array of colors and exciting patterns to match one's attire any day of the week! What makes the Jewel however is the multitude of comfort features that customers have appreciated for so many years.
Certified by the Canadian Podiatric Medical Association (CPMA) for fit and footwear engineering, the sandal's comfort starts at the base. The rocker sole provides stability and reduces impact with every stride, thus reducing muscle fatigue in one's feet and legs. The leather covered cork footbeds, which are removable (therefore can accommodate orthotics), shape to your foot with wear providing a custom and most comfortable fit.
The upper is fully adjustable, with three adjustable high quality velcro straps. This severely decreases the chance of erosion while providing security with every stride.
The Wolky Jewel is available for purchase at select retailers across Canada and we encourage you to connect with us to find your nearest Wolky stockist: Wolky@papillonintl.ca    https://papillonintl.ca/
---