The CPMA is a non-profit organization that was formed in 1926, and is dedicated to enhancing the profession of podiatry and providing a collective voice to government, industry, and Canadians on your behalf.
To become a member of the CPMA, podiatrists must first be a member of their own provincial organization. If the province in which a podiatrist practices does not have an association, that member can apply directly to the CPMA.
Active membership may be granted to any podiatrist who is duly qualified as a Doctor of Podiatric Medicine (D.P.M.) or possesses a Bachelor of Science (Honours) in Podiatric Medicine (Bsc. Hons. Podiatric Medicine) or a Bachelor of Science (Honours) in Podiatry (Bsc. Hons. Podiatry) degree and is legally licensed to practice podiatric medicine in a province of Canada in which legislation exists relating to the practice of the profession of podiatric medicine and the licensing of podiatrists.
Benefits of Membership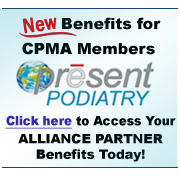 In addition to connecting you to colleagues across Canada, your CPMA membership also provides the following benefits:
Representation on CPMA Board of Directors with full voting privileges;
Invitation to attend all CPMA general meetings with voting privileges;
Twice a year newsletter;
Access to online educational credits;
Membership in the Federation International de Podologues (FIP);
A 35-40% reduction in malpractice insurance as a result of preferred rates negotiated by the CPMA;
The opportunity to join a competitive health and dental plan that was negotiated on behalf of all CPMA members;
Discounts on other insurance plans including:

Disability;
Excess health spending account;

Eligibility for membership with the American Podiatric Medical Association (APMA) which includes:

APMA News;
Educational Journal (JAPMA);
discount at the APMA Annual Clinical Conference;
access to the APMA website "for members only" section;
on-line CME credits;

Included in negotiations regarding Preferred Provider Programs (e.g Hertz Rentals)