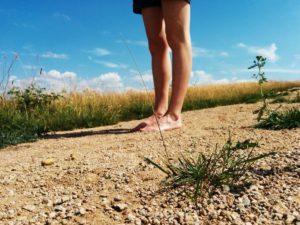 From the Care2 news article:
After a long, cold winter, there's nothing quite as refreshing as kicking off your shoes in the spring and feeling the grass beneath your feet. Walking barefoot through the grass, in fact, has health benefits that extend far beyond the pleasurable sensation it offers to your sense of touch.

Many of these benefits have scientific evidence to back up their claims, suggesting that almost anyone can improve their health just by walking, running or standing barefoot in the grass. Best of all, it's such a simple thing to do, you have no excuse not to try it this spring!

when you find yourself enjoying the outdoors this spring, make sure you take a moment to kick off your shoes and enjoy going barefoot. It doesn't just feel great — it's super healthy for you, too!
Read more at the link:
https://www.care2.com/greenliving/5-reasons-to-walk-barefoot-this-spring.html