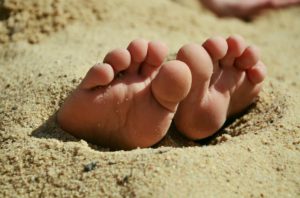 From the Express news article:
OUR feet have a hard time of it. We walk all day on them, squeezing them into unsuitable shoes with pointy toes and killer heels. Then, come summer, when the shops are full of strappy sandals, we often wish we had taken better care of them.

It can be a bit of a chore to look after your feet, particularly when they're not on show for most of the year. But neglecting them can lead to callouses, hard skin, discoloured nails and bunions.

Victoria Beckham has long suffered from painful bunions as a result of wearing high heels and this June Prime Minister Theresa May was pictured baring bunions of her own while on holiday in Italy.

They are by no means alone. Indeed, recent research revealed that almost half of British women cover their feet during summer, blaming hard, dry skin and cracked heels. But help is at hand thanks to the latest tricks and treatments designed to transform toes and freshen up your feet.
Read more at the link:
https://www.express.co.uk/life-style/life/839159/foot-care-products-uk-boots