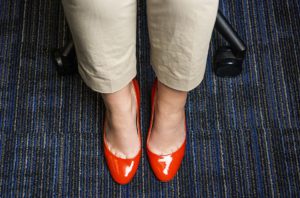 From the Star news article:
'Putting Your Best Foot Forward Act' would prohibit companies from requiring inappropriate shoes.

A Liberal MPP is putting her foot down with a new private members bill banning employers from forcing workers to wear high heels on the job.

The proposed legislation follows a move earlier this year in British Columbia, where, for health and safety reasons, heels can't be a mandatory part of any uniform.

Toronto MPP Cristina Martins (Davenport) will formally announce her "Putting Your Best Foot Forward Act" on Tuesday, which will make changes to the Occupational Health and Safety Act and "prohibit employers from requiring an employee to wear footwear that is not appropriate to the protection required for their work.
Read more at the link:
https://www.thestar.com/news/queenspark/2017/10/16/ontario-employers-wont-be-able-to-make-workers-wear-high-heels-if-proposed-bill-passes.html