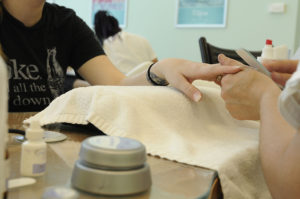 From the WPRI news article:
The vast majority of nail salons across Rhode Island are in good standing with the R.I. Department of Health (RIDOH), but Target 12 has uncovered serious violations at some establishments that specialize in manicures and pedicures.

One Rhode Island woman told Target 12 that a little luxury turned into expensive medical bills.

"The woman that did my pedicure was jamming the tools and file deep under my skin," the woman wrote in an email. "A few days later I began feeling ill."

She said a podiatrist had to remove part of her toe nail.

Doctor Helena Kuhn, a dermatologist with Brown Dermatology said she treats similar cases regularly.
Read more at the link:
http://wpri.com/2017/11/09/inspections-at-nail-salons-reveal-serious-violations/