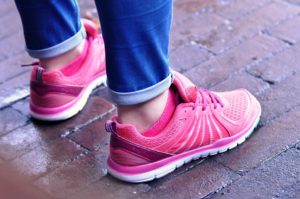 From the Longevity news article:
Foot pain robs you of a vast chunk of your quality of life," says podiatrist Chris Delpierre from the Sports Science Institute in Cape Town. "Over time, your foot can move out of shape and bones can become more prominent, which can hurt. Feet can lose muscle tone. And if you gain weight, you are going to have accompanying foot problems. You could make the case that not walking barefoot enough has an influence."

Whether the heel is too high, the shoe is too tight or your running step is not well supported, the wrong shoes can cause many common foot disorders. Delpierre advises: "There is a general rule with shoe design: the better the shoe is for you, the less likely it is you want to wear it." A shortened Achilles tendon is common from wearing shoes with too high a heel, which increases the risk of foot problems.
Read more at the link:
http://www.longevitylive.com/anti-aging-beauty/anti-aging-health-studies/treat-feet-know/