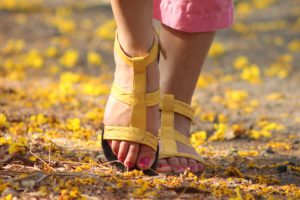 From the Open PR news article:
From blisters to ingrown toenails to arthritis, injured feet present a public health concern. The American Academy of Orthopaedic Surgeons (AAOS) reports that approximately 43.1 million residents in the U.S. suffer from foot problems, which nearly equals to 1 in every 6 people. Foot care products include all products involved in the preventive and remedial care of ankle and foot. Every human being walks about 115,000 miles during his average lifetime, and 30% of people face foot problems at some point in their lives.

The problems could be due to ill-fitting shoes, result of injury, general wear or tear, or may result from disease complications. Foot care products are vital for avoiding and sustaining proper foot health. Patients suffering from circulatory diseases or diabetes mellitus are 20 times more likely to have foot problems. Problems with feet include planter warts, nerve disorder, foot pain, fungal infections, joint inflammation, torn ligaments, tissue injuries, broken bones, and bacterial infections.
Read more at the link:
https://www.openpr.com/news/929363/Global-Outlook-for-Foot-Care-Products-Market-by-Key-Trends-and-Analysis-2025.html